Pastry, jam and sweet coconutty meringue: could you resist?
I started off my Sunday baking with a plan to make 'Harmony Tarts': sweet little treats from the NZ Women's Institutes Tried Recipes for the sole reason that I couldn't resist the name. But as I baked, I had a hunch that these were eerily similar to something I've eaten before, and before I knew it, I was baking not only for Harmony Tarts, but Louise Cake as well.
Let me explain: They both have the same bones: an enriched pastry base, jam, and coconut meringue to top them off. The similarity between the two couldn't be shaken, but while Harmony Tart has disappeared, Louise Cake thrives. You can find recipes from Chelsea Sugar, Food in a Minute, Annabel Langbein, Edmonds, Nadia Lim, and even as 'New Zealand Louise Slice' from The Spruce (unaffiliated links).
Let's start with Harmony Tarts. I searched the internet and all I could find on them was a request for the recipe in Stack of Recipes, likening them to Louise Cake.
I did think there wasn't going to be much dough and meringue, but as it came out there was plenty. 1/4 inch thick dough sounds quite alarming, but when you convert it, it's 6mm, so while thicker than store-bought pastry, there's enough to give you 12-13 pastry cases. I filled the cases with about 2 tsp of homemade plum jam, before carefully dividing out the meringue topping.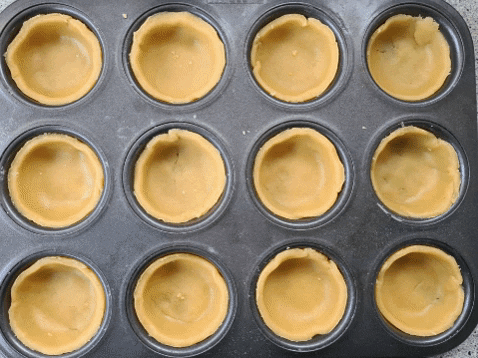 The earliest recipe I could find for Louise Cake in Papers Past is from September 10, 1929 in the Manawatū Times (although I do not claim that this is the earliest recipe). Australia pips us with an earlier use of the name, with a recipe for Louise cake published in February 1926, but it bears little resemblance to what we call Louise Cake/ slice today. By the 30s Australia had a form of bread-and-butter-jam-sandwich-pudding-doused-in-custard which bears a slightly closer version of what we eat in New Zealand, but it is not our Louise Slice.
I've read speculation that the slice was created for the 1889 wedding of Princess Louise, Queen Victoria's sixth child. If that had been the case I'd have expected to see earlier recipes, but have not yet had much luck. It's interesting to see the change in jam recommendations from apricot to raspberry, whereas the other elements stay reasonably stable – an egg-enriched pastry and coconutty meringue. I suspect it has something to do with the look – apricot just doesn't have the visual contrast as a red jam.
From hunting the internet, it seems that Louise Cake is a quintessentially kiwi piece of baking – bloggers comment on how they've never seen it outside of New Zealand (and another example), and with overseas blogs (in addition to The Spruce) also position it as having kiwi origins. Perhaps Louise slice is something that's actually, unopposedly ours, and we can celebrate it without the bickering that's so usual with our Neighbours across the ditch.